Is "Christianity Today" Still on the Good Side of Justice?
This is no apology for Donald J. Trump, but a lament about Evangelicals' sense of right and wrong, and how they often get it so badly wrong in current affairs. It is quite sad because Christians, among all people, should have access to the only reliable plumb-line measuring whether a wall is built straight and strong in matters of faith and life. That plumb-line is God's Word, more precisely, his righteousness and justice. See Isaiah 28:17a.
Four years ago, in December 2019, Christianity Today called for the impeachment of then President Trump on its front page. At the time I wrote an article analyzing CT editor Mark Galli's article. Due to the Trump-Derangement-Syndrome gripping our world at the time, I buckled and cowardly removed my article from this blog. I was afraid that I might be seen as a Trump apologist. Yet for me it was not about the US president at all, but about the seriously distorted sense of truth and justice among too many evangelical Christians, whether they supported Trump unreservedly, or hated him so passionately. I just did not understand them.
Fast forward to today. We are now deep into the presidential term of President Biden and — as far as I know — CT has not offered any significant criticism anywhere close to what they have voiced so loudly against his predecessor. To me this is mind-boggling. Do the readers of CT actually care for what is just and right? Do they remember what exactly they sought their president's removal from office for, four years ago?
So here is what I wrote four years ago…
*************
Christianity Today's editor in chief, Mark Galli, published a front-page article in the magazine's December edition under the headline "Trump Should Be Removed from Office." Mr. Galli starts out by saying that the magazine seeks to help evangelical Christians to "interpret the news in a manner that reflects their faith," and that while CT strives "to stay above the fray" it also seeks to "to encourage all (Christians) to pursue justice according to their convictions and (to) treat their political opposition as charitably as possible" (emphasis mine).
It struck me immediately that Mr. Galli stated these ideals in subjective terms. We must pursue justice according to "our convictions." I would suggest right away that this is exactly why our world is in such big trouble today. We pursue what is good and just according to "our convictions."
Whose sense of justice?
I wish that CT would rather seek to guide its readership in pursuing justice according to the unchanging principles of Scripture. So vital was God's justice or mishpat to him, that he stressed the essential need for it (prior to anything else) as Israel was about to move across the Jordan into Promised Land (see Deut. 1). And the principles of his justice are not hard to grasp or to apply for those walking in his fear. For what does the Lord require of you, o Israel, "but to do justly, to love mercy and walk humbly with your God?" (Micah 6:8).
Nevertheless, Mr. Galli goes on to say that it is necessary from time to time "to make our own opinions on political matters clear… doing so with both conviction and love. We love and pray for our president, as we love and pray for our leaders… on both sides of the political aisle." In the very next paragraph Galli then grants that the "Democrats have had it out for (the president), from day one," which is why "everything is under a cloud of partisan suspicion… in these latest impeachment hearings." To his credit the editor even adds: "And no, Mr. Trump did not have a serious opportunity to offer his side of the story in the House hearings on impeachment."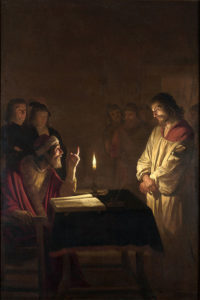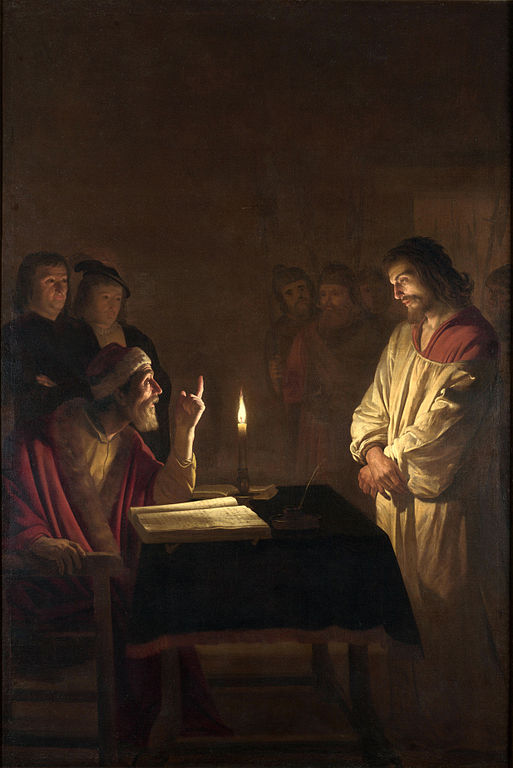 Picture: Very religious people can find themselves on the wrong side of justice all too often! 
Mr. Trumps "abuse of power"
Mr. Galli then goes on the offence: "But the facts in this instance are unambiguous. The president of the United States attempted to use his political power to coerce a foreign leader to harass and discredit one of the president's political opponents. That is not only a violation of the Constitution, more importantly it is profoundly immoral." In other words, for the readers of CT it should be clear: Trump's fourteen-minute phone call with the Ukraine leader Volodymyr Zelenski was sufficient reason to permanently remove him from office.
"The facts in this instance" says Galli "are unambiguous", i.e., this phone-call proves, beyond all shadow of a doubt, abuse of power. But does it really? The meaning of the adjective "unambiguous" according to Merriam-Webster's is "clear" and "precise". When we read the widely published transcript of Mr. Trump's telephone conversation with Mr. Zelensky we struggle to conclude that everything is so clear and precise. It seems that it is only Mr. Galli's interpretation of that phone-call that is clear and precise, i.e., unambiguous, not the phone-call itself. And so, the issue is exactly this: do you want to impeach your president on the strength of an interpretation of one brief phone-call? CT's whole case hinges on this one question.
If the answer is "yes", then I am truly baffled. Given that Galli and the House of Representatives' one-sided interpretation is correct, I would like to ask (without condoning anything): "Was that phone-call a bad precedent of abuse of power for the White House?" Have the esteemed leaders of America and its allies never done anything remotely similar? And how much have they ever been criticized, let alone been impeached for it?
Abuse of power by Western governments nothing new
I am no historian nor a great authority on the news, but I know that there were extensive reports on the internet how the Obama administration refused to provide the Nigerian government with intelligence, when the latter begged the US to help it in its fight against a Boko Haram insurgency in 2015, killing, raping and kidnapping thousands in Nigeria. And the reason? The Nigerians, like most other African governments, did not want to change their stance on homosexuality along the lines of new US policy, and therefore forfeited Washington's support.  What is this but an abuse of power and so-called "quid-pro-quo"?
Here is another recent example. Mr. Barack Obama was virtually untouchable during his two-term presidency. Anyone who dared to level any criticism, never mind how sincere or valid, was quickly met with a barrage of nasty labels, worst of which was being called "racist." Democrat journalist Kirsten Powers did us all a great favour by cataloging this relentless campaign against any would-be Obama critic in her book The Silencing – How the Left is Killing Free Speech, published in 2015. What is this other than abuse of power by the corporate media?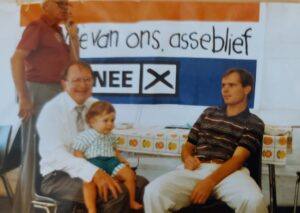 The playbook is actually quite old. Growing up in South Africa I well recall how a major British corporation sponsored an extensive propaganda campaign prior to our vital 1992 referendum. It literally scared white voters into making their crosses in the right box at the polling booths. Across the cities, on trees and lampposts, voters were being scared by big pictures of closed factories and mines, or empty store shelves and sport stadiums, if they dared to vote "no" in the referendum. Handing over to a future ANC government – something Soweto's own residents and even Mrs. Margaret Thatcher had great doubts about only a decade ago – was our only option. The subtle message sponsored from Britain and backed by our government was clear: "You better listen to us… or you perish."  Nobody needed to interpret that message. This was business as usual for our civilized Western powers: the stronger ones bully the weaker ones into submission.
Picture above: Three generations voting in 1992, not for Apartheid (God forbid!) but against the onset of Marxism and radical Secular Humanism.
Another example comes to mind. I recall sitting in a restaurant in Kinshasa listening to my two Congolese colleagues talking about the latest news over a Coca-Cola. They spoke of how the Swedish government was threatening its Ugandan counterpart that it was going to cut off all foreign aid, unless the Ugandans changed their stance on gay-rights. In Malawi I was told the same thing: UN Secretary-General Bank-Ki Moon threatened one of the world's poorest nations to change its views on homosexuality, or to face the music. Please don't get me wrong, no-one wants to argue against the decriminalizing homosexuality, but that is not what this is all about. It's about bowing to illiberal Western values, and to its supreme deity Eros.
These are just anecdotal facts picked up along the way. It shows clearly how our respected Western governments love to operate. Meddling and arm-twisting have always been the name of the game. Africa understands that very well. And yes, I do understand Mr. Mark Galli's concerns if Trump made that call for personal reasons.  But does it make any difference? It is hard to see how that solitary ambiguous phone-call could serve as sufficient reason for impeachment, even if CT's interpretation happens to be fair.
Mr. Trumps "blackened moral record"
Mr. Galli continues on by saying: "The reason why many are not shocked about this is that the president has dumbed down the idea of morality in this administration". Galli lists a few uncorroborated examples of Trump's "blackened moral record" and concludes that the president "is a near perfect example of a human being who is morally lost and confused."
Let me say immediately I am not aware of any credible Christian who is willing to defend Donald Trump's early morning twitter tirades, his past liaisons with a porn star, or his abrasive personal attacks on some of his opponents, which are all unbecoming of a head of state. And yet I would like to say: "Excuse me Mr. Galli, you could not possibly be serious by raising the issue of morality here?"
Morality? Who withdrew from almost all the nuclear-arm treaties with Russia since 2002, completely unilaterally, starting a new arms race? Who invaded a sovereign country on the basis of false claims and "failed intelligence" in 2003? Who has been plotting regime change operations the world over since the founding of the CIA in 1947, plunging entire regions into misery and chaos? Who has bailed out the super-rich during the 2008 financial meltdown, with the tax-money of the struggling middle class? Who is seeking to make war all around the earth? Who has countless of times betrayed its friends, like the poor Kurds have just experienced in Syria again? Who has taken out Libya's M. Qaddafi, opening that country up to radical Islamists, from where they are now conducting their ghastly raids deep into Africa?
Morality? Who first opened the floodgates of porn after the Great War, destroying the moral fabric of the entire world? Who has given us the decadent Hollywood-culture eroding every Christian value on the globe? Who refused to vote for a UN resolution on family values in 2015, that was even supported by Russia and China? Who has given us seriously-slanted 24-hour headline news, leading us into this fact-free and truth-less age?  Who has allowed pharmaceutical companies to enslave and kill a generation of Americans? Who sent Judge Brett Kavanaugh through that horrific ordeal of jungle justice? Who has given us identity-politics, the exact opposite of what Nelson Mandela and Martin Luther King fought for? Donald J. Trump? Christianity Today can't be serious.
A modern-day Samson?
There is much more to say about the CT story, but we can't dwell on every aspect here. We have to come to the presidency of Mr. Trump itself. Politicians and politics have to be judged by the timeless plumb-line of justice and righteousness; that noble cause for which ancient Hebrew prophets were willing to suffer, and which compelled God's Son to take our human flesh upon himself and to suffer on the cross. Though President Trump is no doubt seriously flawed morally speaking, I fail to see how his removal from office is justified on the basis of that telephone conversation. Neither can I brush over the positives Mark Galli mentioned so nonchalantly: Trump's Supreme Court nominees, his defense of religious liberty, and his stewardship of the economy. I could add more: his stand against the slaughter of the unborn in his own country and abroad, against human-trafficking, as well as against broken borders and the ghastly drug trade ripping America apart. I am thankful for his outspoken views against senseless wars, and that Trump is talking regularly with Vladimir Putin by phone. And how can I ever forget him speaking up for South Africa's beleaguered farmers, whose blood stains the soil of my beloved country from north to south?  I will also thank God for a president who is sympathetic to Christianity and who is not siding with radical Islamists against religious minorities in the Middle East and elsewhere (as the previous administration in Washington was known for doing).
Mr. Trump might have many flaws, but please consider that the Mueller-investigation and the entire impeachment circus could only find one ambiguous telephone conversation as "proof" to remove him! How would 90 percent of Washington's elites fare under similar scrutiny?
The best explanation for the Trump-phenomenon is what I heard from my friends in Malawi. Donald Trump, they said, is a modern-day Samson. He fights on the right side most of the time, but he's not in every respect the kind of guy you would like your kids to imitate. (Or as someone else said, he is not my pastor, but my president.) And yet with that donkey jawbone in his hand, we would rather have him on our side than against us, for we all have a pretty good idea what we can expect when "the opposition" take over. So let us pray for the president and for all who govern that they may be filled with a desire to imitate the God of heaven of whom it is said: "righteousness and justice are the foundation of his throne" (Psalm 97:2).
Not too close to the fire, nor too far
Mark Galli closes his article by reminding CT's readers: "Remember who you are and whom you serve. Consider how your justification of Mr. Trump influences your witness to your Lord and Savior." Anglican Archbishop David Gitari of Kenya (1937 – 2013) was concerned about the same thing. He was one of Africa's great post-colonial Christian leaders. His autobiography serves as a beautiful example of how Christians should relate to their governments and politics. Gitari has the following sobering advice:
"The greatest mistake that church leaders can make is to identify their mission in this world with the powers that be in our respective countries. Our relationship with the powers that be should be like our relationship with fire. If you go too close to the fire you get burnt. If you go too far away you freeze. Hence church leaders should position themselves at a strategic point where they are free to praise and support those in authority when they do what is just and righteous before God, and free to criticize them fearlessly when they do what is not right."
May God bless America and make her truly great again!
******************
So that is what I wrote four years ago. Now think what Mr. Biden has "achieved." It could be said that under his leadership lots of things have all but been destroyed: women's sport, trust in public medicine, the Ukraine as a nation, Nord Stream 2 and the German economy, the US/Mexican border, etc. Not to forget how the hopes of the American poor have finally been dashed, and how the future of the US Dollar is now hanging on a slender thread. It all happened during one single term. Meanwhile the Taliban was gifted with billions of dollars of weapons, sex-traffickers can breathe a sigh of relief and Russia was driven into the arms of China. Even presidential candidate Robert F. Kennedy jnr. had to admit recently: "Trump's wall was not such a bad idea."
And Christianity Today is silent?