We Shall Overcome Him…
In my last post I mentioned how I flew back to Entebbe in a small aircraft, to avoid the harrowing six-hour drive of the previous week, a drive which I shall remember for as long as I live. From Entebbe a dear colleague took me to his hometown in the west of the country, another four-to-five-hour drive, where I would spend the next week. Something struck me as we drove, that there were smaller or larger mosques literally every five kilometres along the side of the road, all the way for almost three hundred miles. One could get the impression from this, that Islam was actually much bigger in Uganda than the fifteen percent adherents it can rightfully currently claim. But that is how dawa works, backed by oil-wealth from the Middle East. A well-known scholar on Islamic dawa, himself a former Muslim, told us in Nairobi three years ago that this is all part of the international dawa strategy, to build mosques everywhere, even where few Muslims are yet to be found. These mosques serve to make a statement, and must also serve as proverbial "beehives" for the future.  Churches are often located further away, not so visible to the physical eye. Dawa, for those who don't know, is the seventh-century Islamic strategy for world domination.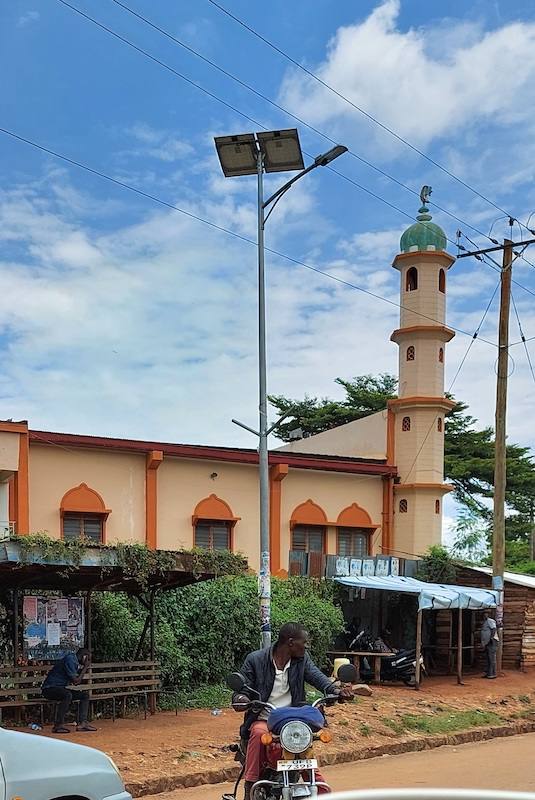 We arrived at our destination late on Saturday, where I was treated to "tea" (an old British-colonial custom of a light early evening supper) by my host and his beautiful wife. The next day I preached three times again, this time in a local parish of the diocese, meaning that my audiences were significant smaller in size than the previous Sunday, when I preached in a cathedral on the other side of the country.
The next three days saw us going to three different spots bringing the Gospel, both to new believers from Islam and other Christians among them. One of these venues was high up on a mountain, a ninety-minute drive away up a mountain pass, from where we had a lovely vista of the western plains of Uganda.
I spoke for two to three hours on average at every venue, seeking to expound the relevance of God's Word and the Gospel, here on the frontier between the faiths of the cross and the crescent. My messages were received with many amens and hallelujahs. It will always remain with me how the hunger for the truth far exceeded any fear that these folks might have.  They cared far more about following Jesus, than about what might happen to them. Their singing about the victory of the Lamb, the Lion of the tribe of Judah, stirred one's heart, fitting in beautifully with one of my messages taken from Revelation 12:11: "We shall overcome him (the fiery dragon) by the blood of the Lamb, by the word of our testimony and by not loving our lives unto death".
It struck me in Uganda how the believers refer to each other simply as "Christians", or as "brothers and sisters". This is how it should be, regardless of our denominational affiliation. It is time that we in the West begin to learn to use our true Biblical name again, and call each other simply "Christian", if anyone walks worthy of that wonderful name. Nonetheless, the Christians responded with loud "amens" when I reminded them that not even the sword shall separate us from God's love in Christ our Lord (Rom. 8:35). We are more than conquerors through him who loved us, yes even our hairs are numbered, said Jesus to his disciples whom he sent as sheep among the wolves (Matt. 10:30). The worst "they" can do is to make us sleep in the arms of our risen Lord, until the day of resurrection, when He will raise us up again. During my second sermon on the last morning, while speaking as usual in a building with neither windows nor doors — and a mosque not far away— I noticed a young Muslim girl sleeping on a little wooden bench. I was going on for over two hours already, and yes, some folks did fall asleep! I saw how this young girl covered her face with her black burka as she tried to sleep, and I wondered what she thought of it all, and what she would tell her family of all that she had heard in the church today. Afterwards I learned that she was actually a new convert to Christ, and joyfully serving her Lord!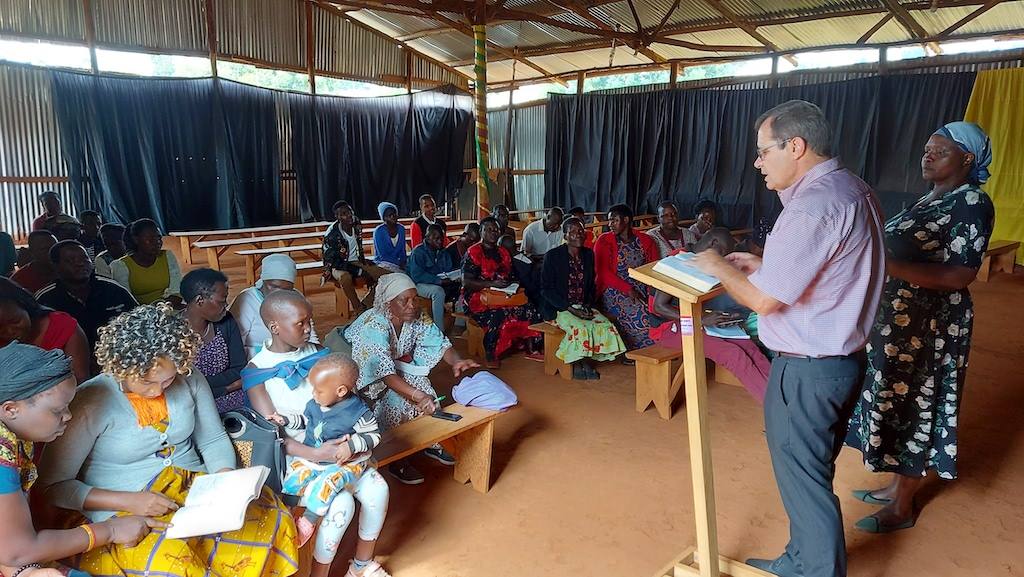 The day we left to head back to Entebbe, my host first showed me the impressive local Anglican cathedral, built in 1961 with much support from Britain. Plaques in the wall testified to the donations made by cathedrals of Wells, Ely, York Minster, Bradford and many others, with the founding dates of these British churches inscribed below their names. Some dates went as far back as 671 AD. What a story those plaques told, I thought, of a church in England that was once was so powerful, but which is almost no more, and of her daughter far away in Africa, that is now taking over the baton, willing to bear the cross of Jesus. My host also showed me the gravestone outside of the local bishop, who was killed by Idi Amin's soldiers back in 1979. I was told that Amin hated the Christians.
Inside the cathedral I spotted a banner with the "core values" of the Church of Uganda. I thought: "Wow, these folks are getting it!", for just listen to these values: faithfulness to the Holy Scriptures; integrity; selfless service; unconditional love; unity in Christ and upholding Biblical family values. We left the cathedral and took the long way back to Entebbe, passing through village after village, and even through an indigenous forest, and a large swamp, before crossing the Nile River, as we headed closer to the capitol.  We stopped over in a Kampala suburb to have "tea" as the sun was setting, and some gospel hymns were sung in a church nearby. It was at the home of my host's sister-in-law in Kampala, our driver for the day. Her driving skills was even better displayed later that night, when she drove us so ably and swiftly through the city's hectic nighttime traffic back to Entebbe.  My flight for Lilongwe (via Nairobi) was going to depart at four in the morning. And so I said farewell to Charles and Esther at the departure hall, just before ten, where I had to wait a few hours yet before clearing customs. As I sat there half asleep, I looked back on a most memorable first ever visit to the country of Uganda, and how God had blessed me through his children here in the "Pearl of Africa".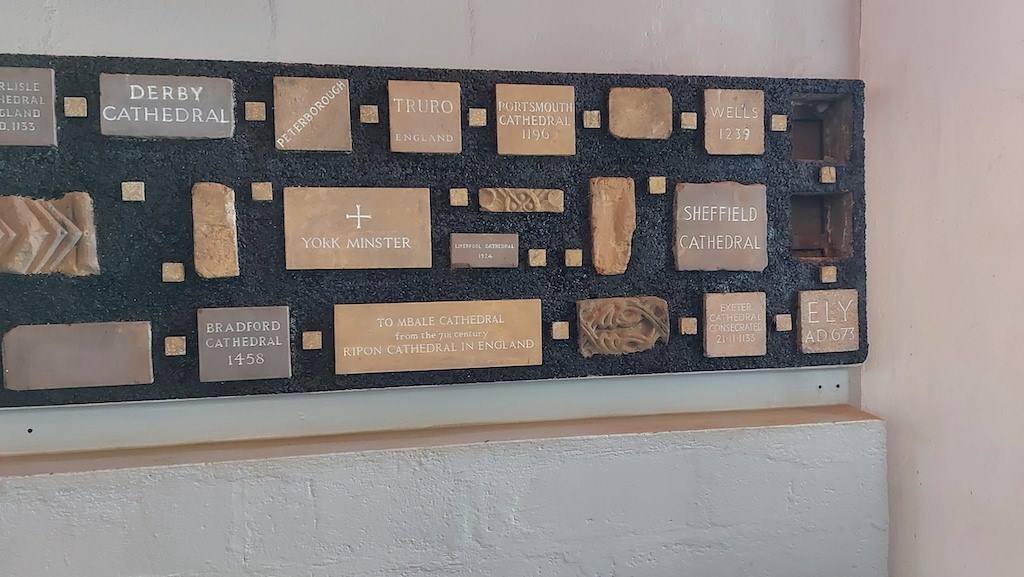 It is always nice to be back in Malawi. This was going to be my sixth visit since I first came here for Word and Deed in 2006. I was going to do a three-day seminar on Christianity and Islamic Dawa, far north of the capital Lilongwe. We drove there taking the scenic coastal route all along the shore of Lake Malawi, and even slept over one night by the lake. It brought back wonderful memories of how the Lord once dealt powerfully with me, at this very same spot by the lake, back in April 2006. A gruelling six-month-long existential crisis with doubt, which I never saw coming, was mercifully brought to an end here by Lake Malawi, as I was reading and praying through the prologue of St. John's Gospel one morning at sunset back in 2006. God's amazing sunlight broke through the dark hovering clouds of doubt and despair, and only shone ever brighter since.  I look back to this place as Jacob of old would have looked back on Beth-El or Penuel, and was so blessed to visit it again, with out even asking or expecting it. I guess the Lord wanted to remind me of his eternal faithfulness. Nonetheless, the next morning we travelled on again to our destination.  On the way north I was impressed by all the rubber tree plantations I saw, never realizing that rubber trees were grown in such great quantity in this poor but wonderful African country.
My three-day seminar was squeezed into two days, due to some logistical problems. Roughly forty-plus church leaders attended from many different denominations. I spoke for  four to five hours every day, dealing with a whole number of subjects. The first few lectures dealt with the world since 1989 (when the Cold War basically ended) and how and why dawa is back with such great force in the Muslim world after many centuries. I also covered the main doctrines in the Islamic creed, before focusing on our Christian faith and response. It is only through God's matchless love displayed in his people for all — also for our Muslim friends — that we shall conquer. That love is the result of the Gospel of God's Son— the Son of God whom Muslims love so much to fight and deny, ever since the Dome of the Rock was built by Abdul Malik back in 691 AD.  But the everlasting Gospel, by the same token, is impossible without God's  self-revelation in nature and Scripture as the Triune God. Christianity stands and falls with the divine authority and reliability of Scripture. Muslims claim today however that Bible has been corrupted.  I showed my audience how baseless such a claim is, and how desperate, for not even the Quran supports it! It is the desperate effort by contemporary mullahs who realize that both the New Testament and the Quran (written seven centuries later) can't both be true at the same time. The credentials of New Testament reliability — I told my audience — is beyond scrutiny.
I was impressed with how my translator managed to keep up with me so well, speaking for such long hours. He did an excellent job. On Thursday we took the long road back south to Lilongwe, where I would stay for two more nights at the lovely Woodlands Lilongwe lodge, before departing for Pretoria on the third day of September. The Lord was good indeed, and his lovingkindness endures forever. This memorable visit to Africa proved to me again, that our Lord Jesus is building his church for sure, and the gates of hell shall never prevail against her.