Through the Valley of Death (Part One)
In the year of our Lord 2021, during the most beautiful month of October, death cast its long dark shadows over my life in ways that I have not experienced before. Twice before I have had close encounters with eternity, as a child and again six years ago, both because of anaphylactic reactions to beestings, but this time it was different. It was different in that I sojourned in the shadows of death for quite a few days very far away from my loved-ones. But let me start from the beginning.
Just a flu?
In September I decided to visit my ageing parents in Pretoria, since Covid numbers were down in South Africa, and Canada's own travel restrictions have been eased significantly. I have not been vaccinated yet and knew that our governing Liberal Party was talking about banning all air travel for the unvaccinated soon. So, I thought I had to jump if I wanted to see my parents… and all of that meant that the two-week trip was arranged in quite a rush.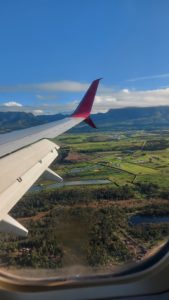 Having arrived on the first day of October, I spent some splendid days with my parents and family in Pretoria. On Monday the 4th I took a domestic flight from Johannesburg to George down in the Southern Cape, to pay a quick visit to my in-laws among other things. As I boarded the Safair Boeing 737 that day, I had a strange sense of foreboding that something was coming, for the small passenger carrier was jam-packed with people. The flight went uneventful and excitement gripped me as we descended for landing in the stunningly beautiful world south of the Outeniqua by the Indian Ocean. I rented a small Toyota at the airport and headed for Robertson some three hours west, where my in-laws were waiting on me. From there we would travel even further west to a wine estate near Tulbach, managed by my niece and her husband. As I went to bed that night, after a wonderful meal and fellowship with my wife's family, I felt not so well. The next morning I wondered: were these flu-symptoms or just my imagination? We said our goodbyes to Luciana and Christiaan and headed back to Robertson through the picturesque Boland countryside.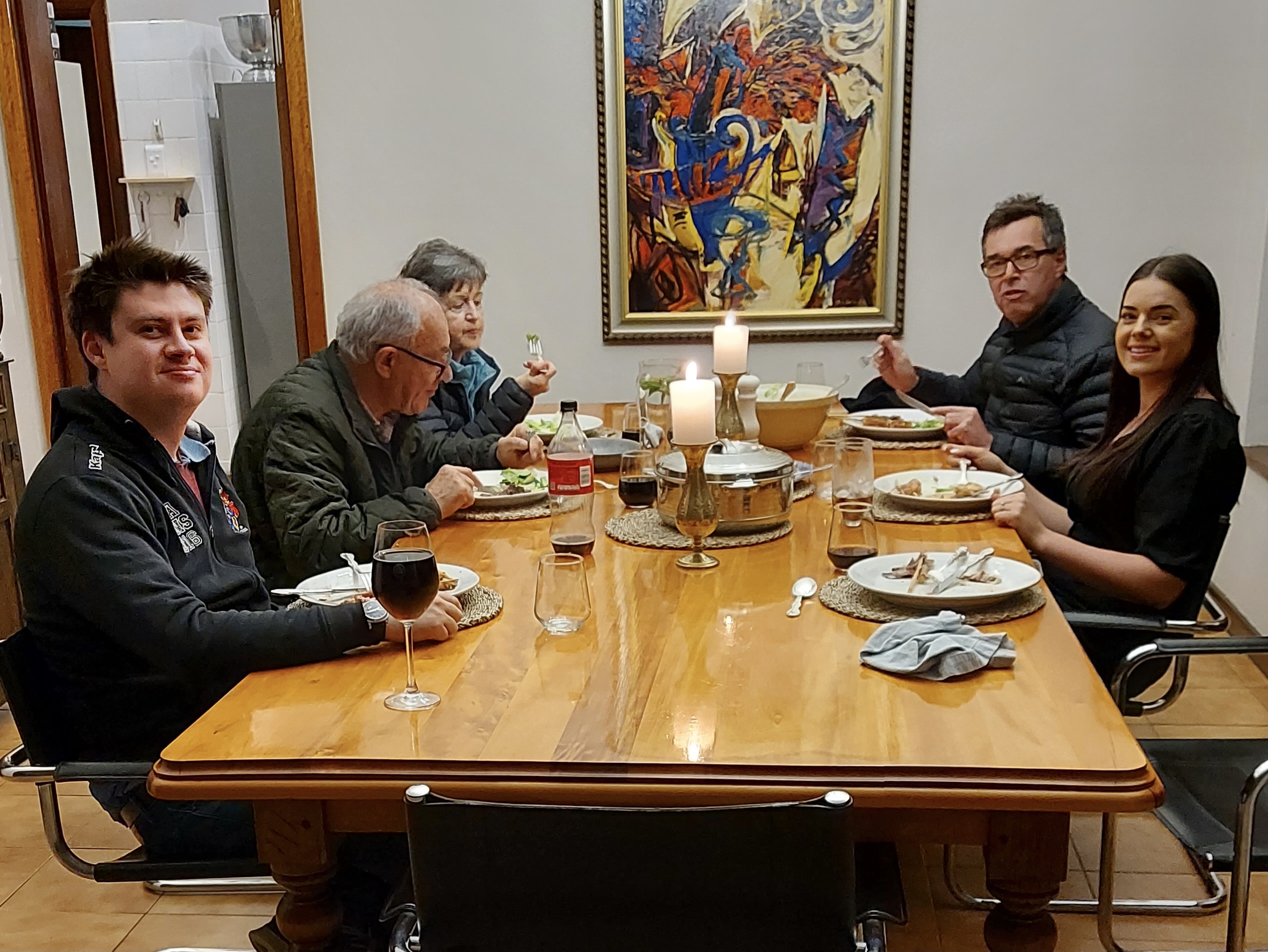 Having arrived safely at my in-law's gated village in Robertson, I took a walk trying to gauge what's going on with me. The thought that Covid was still wreaking havoc in South Africa a few months ago was beginning to haunt me, even though the numbers of infections were way down. I told my father-in-law that afternoon that I was concerned and asked whether we should go ahead with our dinner for that evening. We were going to have both my wife's two brothers and their families over. After an amazing dinner I told my brother-in-law Pietro how I felt. He suggested that I take a glass full of garlic! I never swallowed so much garlic so willingly, but the next morning the symptoms prevailed. What is more I had to drive five hours west on the N2 to Buffelsbaai (Buffalo Bay), where I would stay for three days and also meet up with my only brother. On my way there I was hoping to visit my cousin and her family in George, as well as a retired missionary who made a big impact on my life as a young Christian. For a moment I hesitated: Should I cancel these visits? What if I have Covid? I decided to go through with it and ended up having two wonderful visits that afternoon in the lovely city of George.
Its Covid!
From there I was heading further east on the N2, to the place where I spent perhaps more than a year of my unmarried life, adding up all the December holidays together.  The feelings that this small seaside hamlet evoke in one's heart are hard to describe to anyone unfamiliar with the stunning beauty of the Garden Route. Over the last twenty years in Canada, I have had numerous spontaneous flashbacks to scenes from this part of God's creation. Needless to say, how much I was looking forward to spend just three nights there again…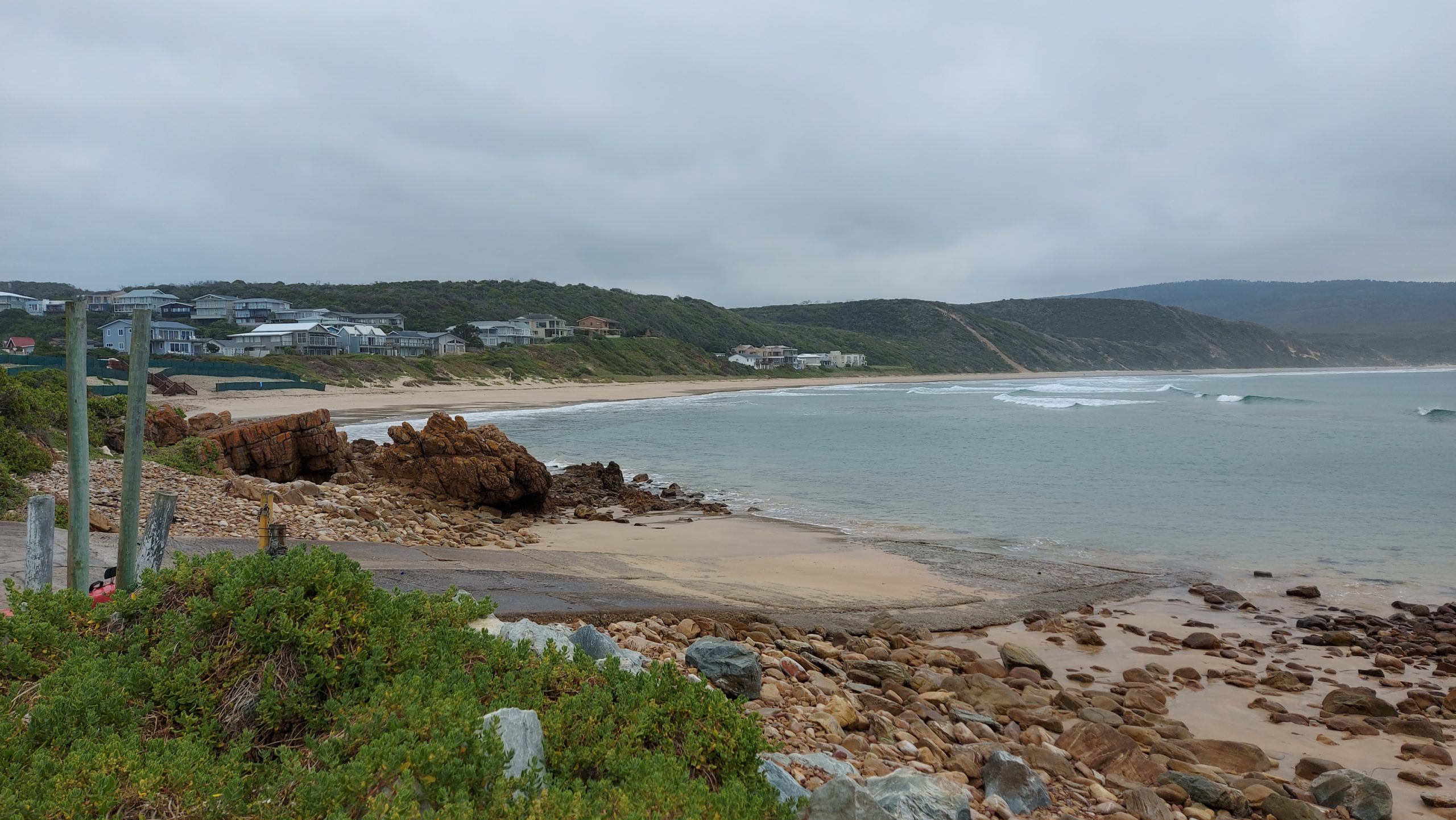 Yet, when I unlocked the door of my rented apartment just above the restaurant, with the beach some fifty meters away, the excitement about Buffelsbaai was gone. Other concerns filled my mind. When my brother and his collie dog arrived shortly after, my worries were only escalating. Sometime later that night I broke the news to him, saying: "I am not feeling well Kobus". We nonetheless enjoyed a nice barbecue on the balcony, with the sounds of waves breaking on the shore. Sensing that my situation got no better, my brother wisely told me before going to bed: "Christo, tomorrow we are going to George for a Covid test…"  He knew what he was talking about. He had seen three members of his immediate family falling ill with Covid over the last winter, himself as well. His own father-in-law perished in hospital, having still been rather strong and active on the farm prior to that. And so, after talking to an old-time physician friend, Dr. Roy Spammer in Cape Town, Kobus decided to take no chances. For that I will be forever grateful, because most Covid-deaths occur because people take too long to act.
Early that Thursday morning we drove the forty miles to George in our two vehicles, since my brother was going to carry on to Stellenbosch near Cape Town. I was going to return to Buffelsbaai after taking the PCR test, staying two more days, until flying back to Johannesburg. On my way back to the seaside village I still picked up some groceries in a small town called Sedgefield, feeling not so bad at all, and hoping that everything will turn out well. That evening, as I went for a walk through the quiet village, and sat on the restaurant's deck all by myself, I realized how grave the consequences would be if I tested positive. It was a thought I rather did not want to entertain.
The moment I stepped back into my apartment the phone rang. It was Kobus: "Did you hear…?" he said. He did not have to explain. The tone of his voice gave it all away. I immediately realized, I not only had Covid, but was not going back to my parents in Pretoria anytime soon, nor to my family in Canada. But there was something else tormenting me: my medical coverage. I discovered that the medical travel insurance I had taken out back in Canada was never confirmed by any emails. We later found that it was all a scam! What if I ended up in hospital for many weeks?
Going to isolate
When my sister Marianne called a few minutes later, I broke down in tears. Panic gripped both of us simultaneously, but the Lord calmed our spirits again. We will trust Him through all of this, or at least try to. We had no idea what the future held, but we could hide under His mighty wings. "And what about the good folk that I exposed to Covid yesterday in George?" I asked her. "What if any of them become seriously ill and even die?" We decided that I would call them first thing in the morning.
I left messages on both Karin and Trevor's phones that Friday morning, before I left the apartment, and got their responses while I was driving. They were amazing. There was not a hint of anger or even fear. Both pastor Trevor and my cousin Karin only encouraged me to look to Jesus and not to worry; everything was in His powerful hands. I could see, their faith was tested and proven genuine by God's grace. Indeed, this Covid thing has a way to really expose of our hearts all over the world, doesn't it? As I listened teary-eyed to their messages later that day, on the side of the road somewhere in Meiringspoort, I was relieved from my first big burden.
So, I left Buffelsbaai a day earlier to go and isolate at my brother's in the Great Karoo, three hours north. Passing through George, I first picked up my medication at a pharmacy in George, with a friendly lady taking my prescription through the car's window. My place of isolation would be the envy of millions: a cozy thatched-roof chalet tucked away in a ravine in the Great Karoo. It's part of a bush camp, or game farm, called KoKaTsara, meaning "valley of the little deer" in the Khoi language. It is incredibly beautiful during the day, but very secluded and shrouded in darkness at night, as I would soon find out in a new way.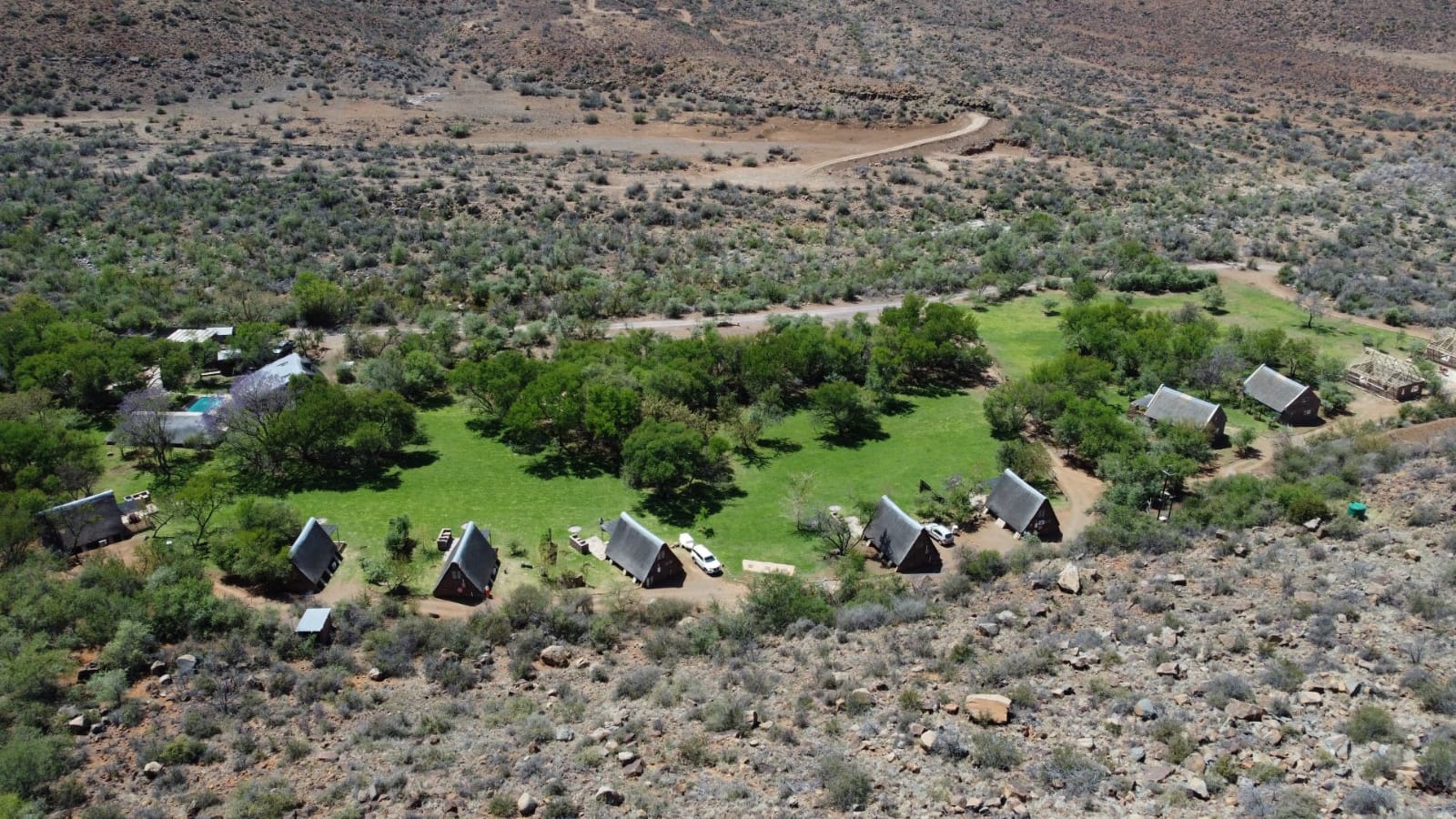 As I drove across the Outeniqua Pass and into Meiringspoort that morning, I realized that I was coughing more often. Among the medicine Doctor Spammer prescribed was a little gadget that measures one's saturation and heartbeat, called an oximeter. Your saturation-reading has to be in the mid-nineties to be safe; anything below 90 is dangerous. Over the next week or two this little gadget not only proved to be of vital importance, but also a real terror, for it was going to tell me what I did not want to know in the middle of the night. I reached the bush-camp by mid-afternoon and was so happy to be there again. When a giraffe, a few monkeys and a patient old tortoise all came to greet me within the first hour, I knew this was the place to be. That evening I roasted some lamb and bread over an open fire, hoping I would be better soon.
It did in fact seem so for the first few days. On Sunday I went with my brother up the mountain, standing on the back of his bakkie (truck) all the way, breathing-in the fresh mountain air. Life was good as we stood up there under a squeaking old "windpomp" (windmill), enjoying some sandwiches and Coke. It was now almost a week since I had felt the first symptoms, and I did not feel too bad at all. Yet my brother Kobus warned me not to take any chances, for Covid is treacherous and can be very unpredictable. The second week – day ten in particular – often proved to be critical. It was clear to me he knew what he was talking about. Three farmers in the district had perished from Covid in the last year, his own father-in-law among them.
Struggling in the dark
At some point I realized that my appetite was virtually gone. I did not even feel for the biltong on the chalet's counter. And neither did I have any desire to watch news or sport or anything. It just seemed so trivial and worthless compared with things that were now weighing on me. Meanwhile my brother asked his righthand at the bush camp, a Zimbabwean named Ponesai, to watch over me at night.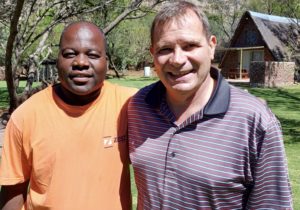 Ponesai did this ever so faithfully over the next number of nights, coming around by nine, standing outside in the dark, calling: "Christo, are you okay? Is there anything I can do for you?" From that time on, it was pretty much me, my meds and the little gadget, till daybreak. Thankfully I could call Margherita in Canada anytime during the night on WhatsApp, as they were six hours behind us in time. Looking back now, I know even better how the Good Shepherd's rod and staff guided and protected me through those lonely nights.
If one thing will forever remain with me about that week at KoKaTsara, then it was my brother's selfless care for my wellbeing. He did not care whether he could catch the dreaded disease at all; but simply came and sat by me on the bed, hearing how I was doing, or giving me medicine or something to enjoy. I often asked him if he was not afraid of getting Covid, to which he responded nonchalantly that he was vaccinated. Yet I could see how concerned he was for his little brother, and that he would leave no stone unturned to secure my recovery, in the midst of a very busy life. During that week he went into town to rent a nebulizer from a local physician. I won't ever forget how he entered my chalet with a bag, how he sat down by my side, struggling to figure out how this thing worked. And then how he carefully poured the medicine into a little cylinder, before slowly placing the mask over my face. The nebulizer did bring some relief at first, but could not help me through those last couple of nights before going to hospital. By then nothing really helped anymore.
As my condition grew steadily worse, I got weaker and weaker, coughing much and battling to breathe. Many concerns kept filling my mind… most of which I brought to the Lord in prayer during those small hours of the night. I was by now accepting the fact that I could very well die here far away from home. I often asked God lying on my bed, what He wanted to teach me, since I was absolutely sure He had an appointment with me. I scanned my heart and life for sins to confess, or for idols to cast away, and brought to Jesus whatever my conscience reminded me of.
The last few weeks before leaving Ontario were so consumed with work that I hardly found time for my early morning audience with the Saviour. I confessed this, acknowledging to my heavenly Father how too many things clouded his Son's glorious image from my vision. It was here at KoKaTsara that Christ became infinitely lovely in my eyes again. But there were other blessings too. By means of this deep dark valley – which at first made absolutely no sense to me at all – He not only brought loved ones and friends much closer to me; but also restored a strained relationship or two. For all of this I am today immensely thankful.
And yet, though I was ready to pass on and be with the Lord, I did not want to go "home" yet. I was so much looking forward to share my life with my wife and family. Little Roman, our first grandchild, was born only last January. We had also just recently come through a very rough patch of life – when death often seemed more desirable than life to me. But since late 2017 the joy of life was restored to me again. And so, I was filled with sadness that it might all be over now, since I was well aware how many folks of all ages had died of Covid in South Africa and Namibia. I knew I was in danger too, even more so because I would not be able to go to a private hospital for the best medical care. All of this made me weep a lot, knowing that I might never see my wife and family again.
The little oximeter really began to terrorize me, for its readings became less and less favourable… Yet, so as not to cause too much panic, I often conveyed the higher end of the readings to my loved-ones, and not the lower ones, which was not so smart. Reading my WhatsApp messages to Margherita today, I can clearly see how I underreported things to her about my situation, so as not to cause panic. Eventually I could hide things no longer.
On Wednesday the 13th I realized I needed to go to the hospital. The previous night was too hard. I had no faith in the meds anymore, and the puffer seemed utterly useless. But if the Tuesday night was terrifying, then the Wednesday night was a real thriller. By the time Ponesai came around after nine I was still okay, but when I woke up around two that morning, I knew I was in trouble. Not only did I cough much and struggled for breath, the little oximeter showed that my heart-rate was going wild. When I got up later to steam my lungs over a boiling kettle, it gave some relief. How happy I was to greet the dawn of a new day, when my anxiety seemed to fade away like the night's dark shadows before the rising sun.
When Kobus came around later, I told him: "I am tired of fighting… I can't go through another night like this". I could see he was very concerned. He told me to be ready in the afternoon; the provincial hospital being only thirty minutes away. When he arrived, sunset was drawing near again. I was so relieved that I was going to get help. And yet sadness almost engulfed me when we drove to the farm's gate and I saw the crimson colours of twilight as the sun was setting over the Karoo. At that moment I recalled the engraving on the two-hundred-year-old German plaque in my parent's living room. It must have spoken to many generations through its mysterious words:
Um den Abend Wird es Licht Sein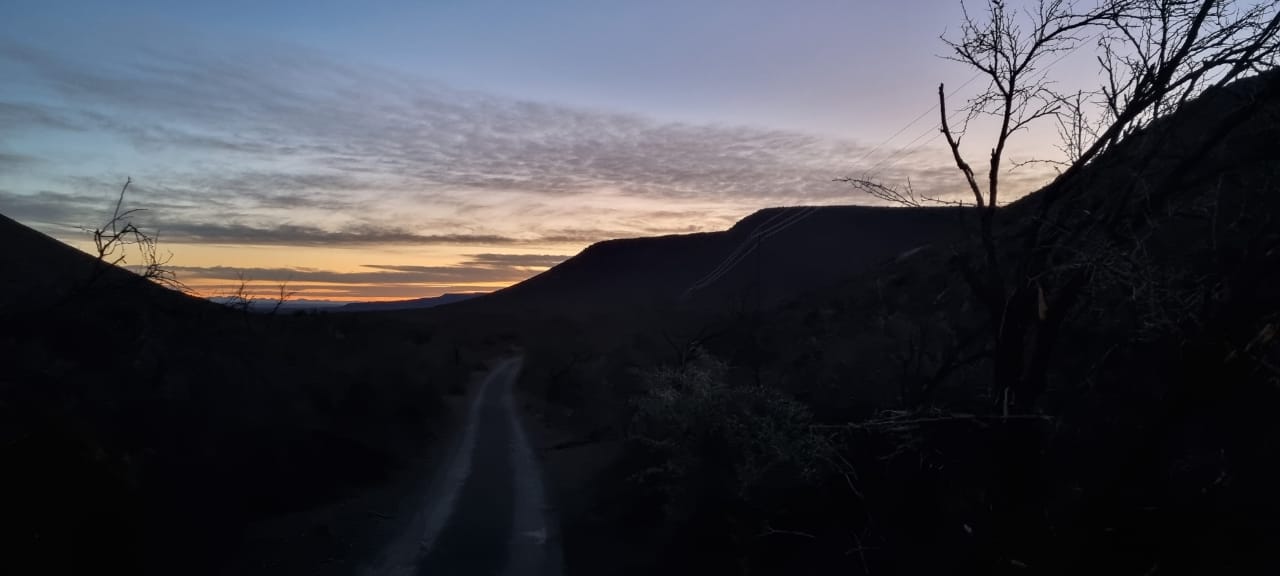 In the evening there will be light. It is a quotation from Zachariah 14:7. I thought by myself: "Will there be light for me though evening had come?" Or is this it?
My condition was now deteriorating fast. When the guards at the gate seemed confused as to where the Covid entrance was, I almost panicked. Thank God, we found it rather quickly… All I can recall is that there was a big white shipping container, behind which was a back door leading into the hospital, from which light was shining forth into the night. I could scarcely make the ten meters from the bakkie to the door. When I got inside, I dropped down onto a lone standing chair right by the entrance, eternally thankful to spot a big old oxygen tank beside it. That was literally all I could think of now. A friendly young man asked me a few questions, before placing the nasal prongs into my nostrils. Was I ever grateful! My saturation shot up from the low eighties to ninety-seven in a matter of minutes. All I could say was "Thank you Lord!", expressing also my gratitude to this gentleman. Somehow, I did not see my brother Kobus leaving, for he was not allowed to enter the Covid door. It was early evening when I was led to my bed – the only male covid-patient in a hospital ten thousand miles away from my loved-ones. And yet at this moment I missed my dear brother more than anybody. How was he doing, I thought by myself?
For some reason I felt so safe and comforted in that provincial hospital. Everything was clean and the staff was friendly and kind. Very soon a young female physician came around. I thought I could embrace her for the comfort she afforded me. When I looked out of the window, I felt so happy. This humble Karoo scene outside was just what my soul was longing for. I thought I could lie on my side, staring out of that window for hours. I was no longer struggling for breath… and did not feel alone, for the Lord was here by my side. By now I knew my brother was almost back at Lemoenfontein. All was going to be well.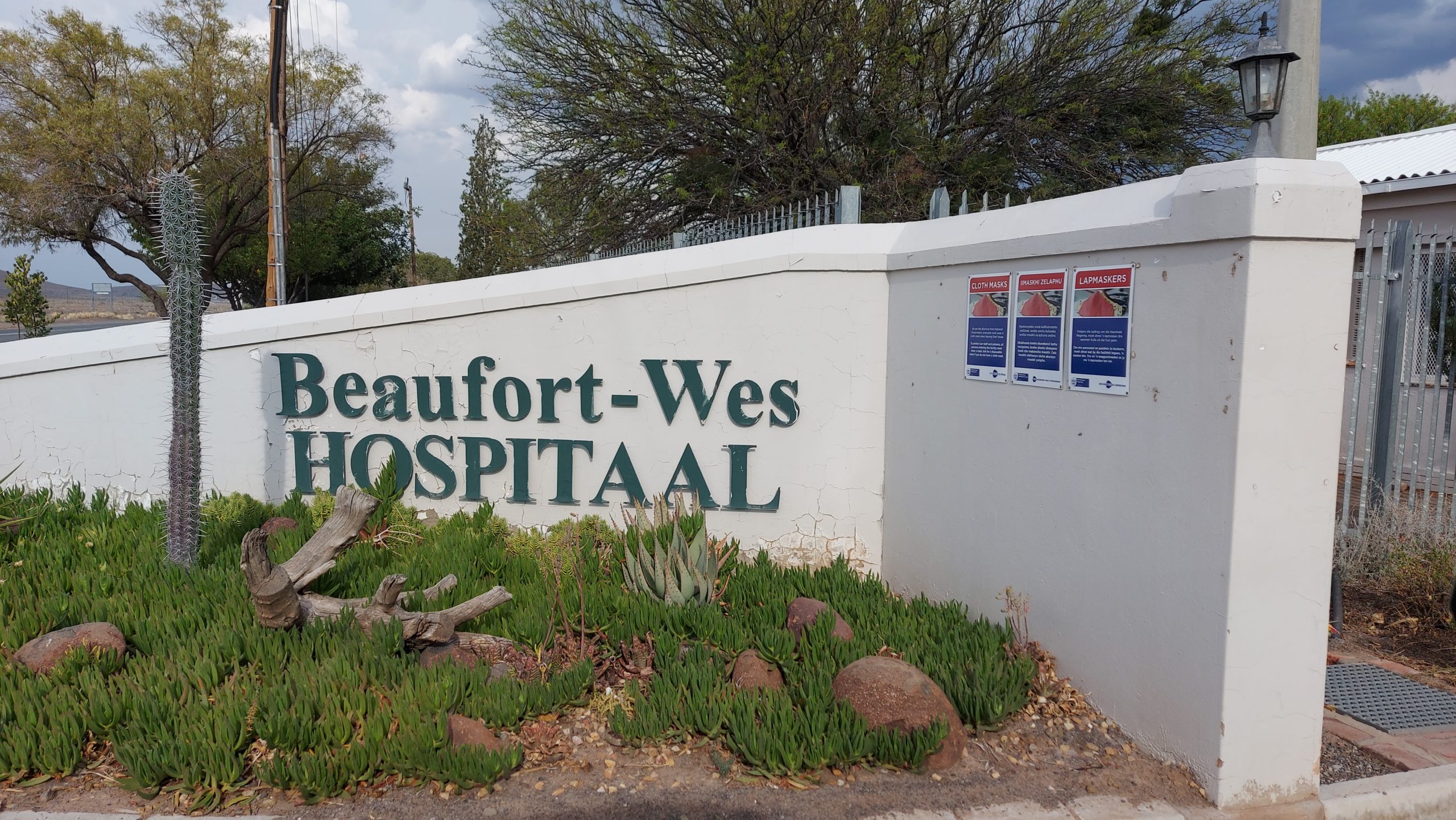 And yet that night proved to be not much easier than the two before. Not because of a lack of oxygen, but because of all my concerns about my wife and children. I lay awake and typed out every single thing on my phone that my dear wife needed to know, should I pass away. I even began to worry if our life-insurance companies would honour their commitments. All through the night I tried to figure out how much Margherita would need to live comfortably… should I not come home. When I had covered everything I could think of, I committed all my burdens to the Lord and fell asleep at around 4 am. Maybe I should just have taken more comfort in our Lord's words right from the start, to look to the birds and the lilies, and not to worry so much.
We are covered!
That Friday morning two other physicians came around. Both of them encouraged me much. My appetite was still non-existing, even though the food looked good. It was when I was asked to go for x-rays, that I realized with a shock how deadly this Covid was. I had to be pushed in a wheelchair and when the radiographer asked me to stand up and to take a deep breath so they could take the x-rays, I could hardly stand on my two feet. It felt as if I had lost most of my lungs, as if the bottom half of it was filled with cement dust. I could not even yawn. It was truly scary, and came about so quickly. I thought by myself: how could there still be people denying Covid?
By Friday afternoon, I longed for a bath so badly. I figured I could make my way to the bathroom, hanging onto bed-frames and doors. I made it quite comfortably, but bending down to check the water's temperature and to sit down was a different story. I was rewarded by the sheer delight to be washed in clean warm water. I got out, slowly dressed myself, and made my way back to my bed by the window, on the far side of the room.
When I was about six feet from my bed my phone rang. I was the only patient in that room and can't remember if any nursing staff was around. Margherita was on the phone. What she said not only took me by complete surprise, but reduced me to a bundle of tears, sobbing uncontrollably. Some of the staff rushed in and asked what was going on? I mumbled that all was okay, and that I would explain in a minute. What happened is that my dear wife told me we had medical coverage from her work! It would cover my medical expenses for six weeks from arrival, for a very large amount. (They later informed us that it could even be extended if needed). This was the most incredible news I could ever receive. I won't exaggerate by saying that I almost felt like Jacob hearing that Joseph was alive, or like the disciples hearing that Jesus was risen. I just kept on thanking God a hundred times. It was too good to be true. Somehow, I just assumed that Margherita's medical plan would not include medical travel insurance for me, which is why I tried taking out my own before I left.
Words can't explain how sweet my sleep was that night. I was so happy and content here in the Beaufort-West Hospital, looking out my window to the barren sandy landscape with a few trees here and there, and a lone individual walking by. My joy was of short duration though, for the next morning when the doctor came around, looking at my report, she said: "You must go to Mossel Bay". I was dumfounded. Why? I am so happy here. My brother is only twenty minutes away. I love this humble and quiet place, and I am the only male Covid patient here. Why sending me three hours away…?
Whatever the physician said I can't recall, but what she told my sister Marianne in Pretoria by phone, compelled her and my parents that morning to get together and to cry out to the Lord for my life. Marianne later told me how my 91-year-old father took control, and by quoting Scripture freely told them to surrender my life to the Jesus, should He be pleased to take me home. Not only did they find perfect peace, as the three of them knelt down in prayer, but somehow, I also found peace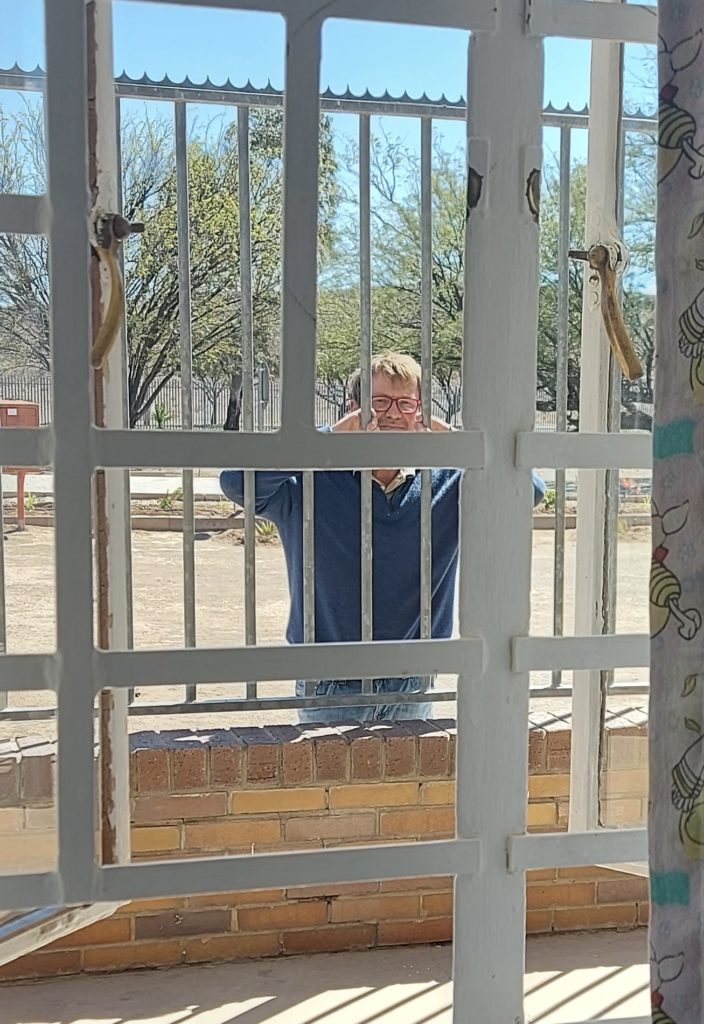 about going to the Bayview Hospital in Mossel Bay. And yet saying good bye to Kobus through the window was hard. I honestly did not know if we were going to see each other again.
The ambulance was already on its way from a neighbouring town, to pick me up in the afternoon.
It was Saturday the 16th of October and I was about to have my first ever trip in an ambulance. I was quite excited. The whole trip in the back of the Relay Ambulance was actually quite pleasant and comfortable, except for the last little while, when the air outside became moister and my saturation went down. The paramedic Sean who sat by me was very kind and professional. I thanked him and the driver sincerely when they pushed me into the Bayview Hospital around six that evening.