Albert Schweitzer was very concerned by 1899 about all the cultural pride and optimism in Europe. He was not so sure that it was all going to end well. He had reason to be concerned. So, what happened? How did it go?
What happens when nations blessed by the Gospel not only turn against that Gospel but openly begin to ridicule it? What will happen to Christian nations hearing for two centuries that the Bible is a book of myth; that God is the figment of our imagination; that the prince is not accountable to God; that man evolved from the apes; that only the fittest will survive; and (as Nietzsche claimed in his insanity) that New Testament ethics are despicable?
What would be the end of all that? For remember, Peter said this Bible is like a lamp shining in a dark place (II Peter 2:19).
Some issued a warning. I think of the Russian novelist Dostoevsky who warned that if there is no God then everything is permissible. Or of the Dutch author Groen van Prinsterer who warned 40 years earlier that "once Europe severed its ties with the Gospel, none would be able to stop its rush to the abyss".
What happens when the lights go out? When the Saviour who blessed your people so mightily, is called a lunatic? To find an answer I'd like to take you to Southern Africa around the year 1900.
The Anglo-Boer War of 1899 – 1902
During the 1840's Dutch-French Protestant farmers – called the Boers – moved into the mostly vacant interior of South Africa beyond the Orange River in an effort to escape British control and to establish their own republics.
By 1854 Britain had guaranteed these two Boer Republics "the right to rule themselves without British interference". But then by the 1880's the richest deposits of gold and diamonds anywhere in the world were found right within in the Boer republics. British prospectors poured in from all directions.
The British then did two things: They simply cut the diamond-town Kimberley off from the Free State, and demanded voting rights for thousands of British gold diggers south of the capitol Pretoria. It would come as no surprise that the godly old-fashioned president of the Transvaal – Paul Kruger – would have none of this.
The Prime Minister of the Cape Colony, and British imperialist, Cecil John Rhodes, then tried to provoke an uprising by British miners, by launching a surprise raid into Kruger's republic (called the Jameson Raid of 1895). This was a de facto a declaration of war and the Boers got it. Though the raid was a complete disaster, everyone now understood the British intentions clearly: "They want our country!"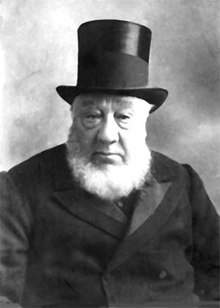 Soon after this the British governor Sir Alfred Milner again pushed for full citizenship of British citizens, whom he believed were a superior race. When Kruger still wanted to bargain, Milner threatened that Britain would assert its sovereignty by force. When talks finally broke down the saintly old Kruger told his imperialist adversary in tears:
"Its our country you want!".
Milner got what he wanted. War broke out in October 1899. British soldiers wrote home that the Boers were idiots to take them on and that the war would be over by Christmas. Unfortunately, they got a huge surprise. They were simply hammered on the battlefield, turning the South African campaign into a nightmare for London.
Military enforcements were called in from all over the Empire until almost half a million men were fighting 50 000 Boer farmers and sons. Suddenly the last days of Queen Victoria began to look like the last days of the British Empire.
But the sheer number advantage turned the tide in favor of Her Majesty's men. The Boers, seeing that they could not win a conventional war, turned to guerilla warfare, avoiding all civilian targets. This became such a headache to Britain that they called upon one of their greatest soldiers to come and finish the job: Lord Horatio Kitchener, after whom a Canadian city is named.
Kitchener was a man of the enlightenment to whom the Bible meant next to nothing. He never married and apparently had little time for women. He also had a master plan of how to break the Boer's resistance. With fathers and sons on commando, he would go to the farms, burn down the farmsteads, kill the livestock, round up all women and children, walk them to the nearest train track (which could be 40 km away) and then ship them to so-called "concentration camps".
The conditions in these 55 barbed-wire camps were so horrific and appalling, that up to 34 000 women and children perished there, more than 10% of the Afrikaner people.
Why did Kitchener go to such barbaric extremes to achieve his goals? Desperation was one reason, for according to Rudyard Kipling the Boers taught the British "no end of a lesson". It proved to be the longest, costliest, bloodiest and most humiliating war Britain ever fought since 1815. Sir Anthony Doyle famously wrote: "Our military history has largely consisted in our conflicts with France, but Napoleon and all his veterans have never treated us so roughly as these hard-bitten farmers with their ancient theology and their inconveniently modern rifles".
But desperation is not the full story. The simple truth is that Christian sentiments would never have allowed Britain to descend to such hellish depths. The real reason lies in Britain's imperial greed and pride, mixed with a toxic concoction of enlightenment ideas. Dostoevsky was right: "When there is no God, then anything is permissible". That's the real reason behind this horror story.
There is some good news too though, for there were many unlucky Christian folk caught on both sides of this war, or at least those who still longed to act by Biblical precept. In Cornwall, a brave young English women's heart was deeply stirred when she saw a picture of Boer women and children in a British camp. Her name was Emily Hobhouse. One can scarcely mention her name without tears.  She could not get these poor folks out of her mind, and sailed for the Cape Colony. She thought there was only one camp, but found dozens. Emily was eventually told by her countrymen to leave South Africa, but not before she had gained enough information for a report, which later became a book: The Brunt of the War and Where it Fell. Her report left all Britain in a state of shock: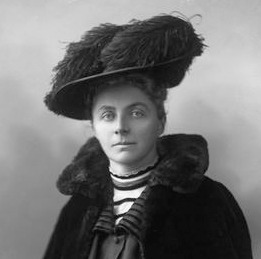 At Bloemfontein she took a picture of an unfortunate little girl, called Lizzie van Zyl. Lizzy was considered "undesirable" because her dad was still on commando fighting the mighty British Empire. So Lizzy – like other Boer kids – was deliberately left to die. The censors considered her picture too graphic for the British public in 1901.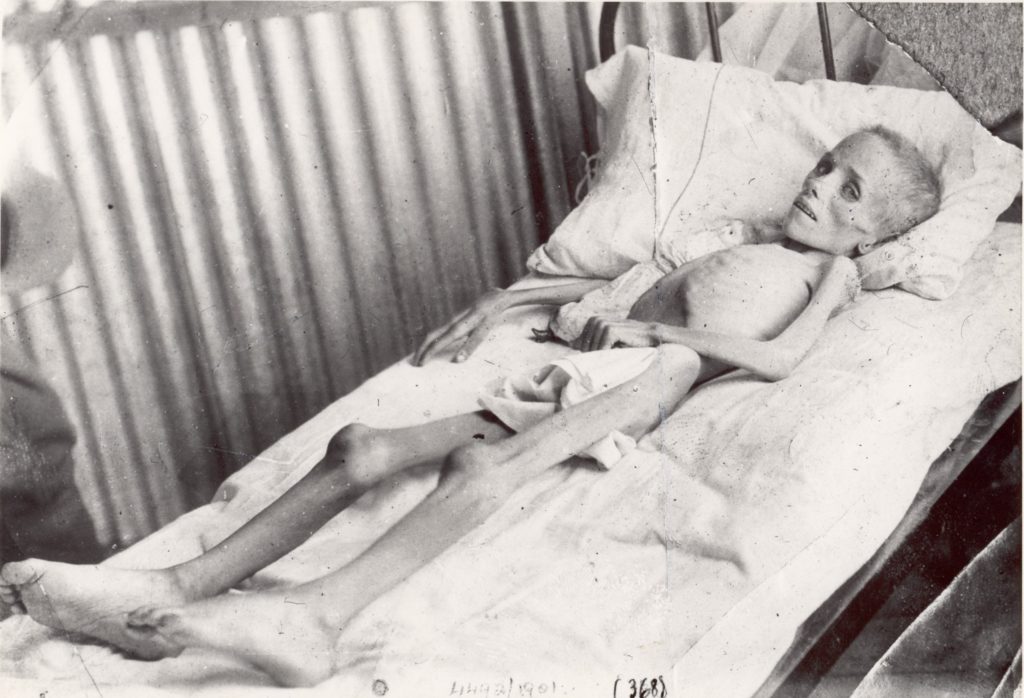 Let us pause for a minute. What's going on here?
German philosopher Gotthold Lessing spoke of an "ugly broad ditch" that supposedly separated modern enlightened Europeans from the gullible backward believing people of Biblical times. From that perspective Lizzie, her mother and President Kruger were considered to be on the far side of Lessing's ditch. Milner, Kitchener and their type were on this side of it. But where did the real chasm run?
First we have to move to another tragic story, to German South West Africa around the year 1900…
2. The German-Herero War of 1904
German South-West Africa. That's what Namibia was called at the time of the Anglo-Boer War. For some background lets quickly go back to the late 19th century. The German Empire was on the rise and was looking for Lebensraum for its growing population. The vast semi-arid space right north of the Cape Colony, beckoned as the ideal opportunity.
The only problem was that the Herero and the Nama have lived their all along. By the end of the 19th century these two nations numbered around 80 000 and 20 000 respectively. So how would the Germans go about to obtain their land (and cattle mind you)?
I have in my possession a 150-page report published in 1918 by the office of the South African Administrator for Namibia. The details are staggering. What the Germans did was to offer the local tribes "protection" in exchange for their sovereignty, promising to respect and uphold their native customs and values, which never happened. The local chief however had no choice if he wanted to accept the offer, because it came on order from the Chancellor in Berlin. The Germans also offered the chiefs loans, which they eventually could not pay back. When they did not pay in time, their German masters took their cattle, far in excess of the outstanding loans.
Justice was especially corrupt. This report is filled with the most disturbing stories and pictures illustrating the total disregard for human rights.
Here's an example. When Hendrik Witbooi, chief of the Nama, refused to accept protection, because he considered Christ a better "Protector", the Germans were not impressed. And so, to make an example of him, the Germans attacked his village at Hornkranz early one morning in 1894, when Witbooi was still sipping away at his coffee.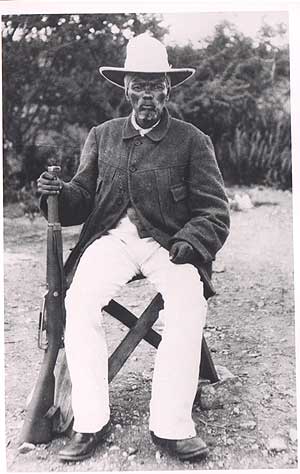 In the wake of the unprovoked attack, with dead bodies and many animals lying scattered on the ground and with native huts burning, Witbooi's daughter told the enemy point blank: "I heard you came from across the sea to declare war against my father…. Today the victory is yours, but very soon he will return like a lion to take revenge on you". That of course would never happen, for Witbooi lost everything but his life. His worn-out Bible was taken to a museum in Germany.  
The result of it all was the alienation of all the native peoples from the German authorities. And so, when the German governor eventually struggled to control the rambunctious Herero, Berlin did as London before. They called on one of their most decorated soldiers to come and finish the job: Lieutenant General Lothar van Trotha, a colonial veteran of wars in East Africa and China.
When Von Trotha arrived, hostilities had ceased. The Herero had fled to the remote Waterberg to await peace talks. Von Trotha however was determined to annihilate them with one blow. One August morning in 1904, Von Trotha ordered his 1,500 troops to attack the 5,000 poorly armed Herero, embedded among 40 000 of their people at the foot of the mountain. It came as a complete surprise. By late afternoon the Herero were defeated. The Germans deliberately allowed them a way of escape into the Kalahari, knowing it would lead to their death. In their flight from German firepower, many thousands of men, women, and children died of exhaustion and thirst.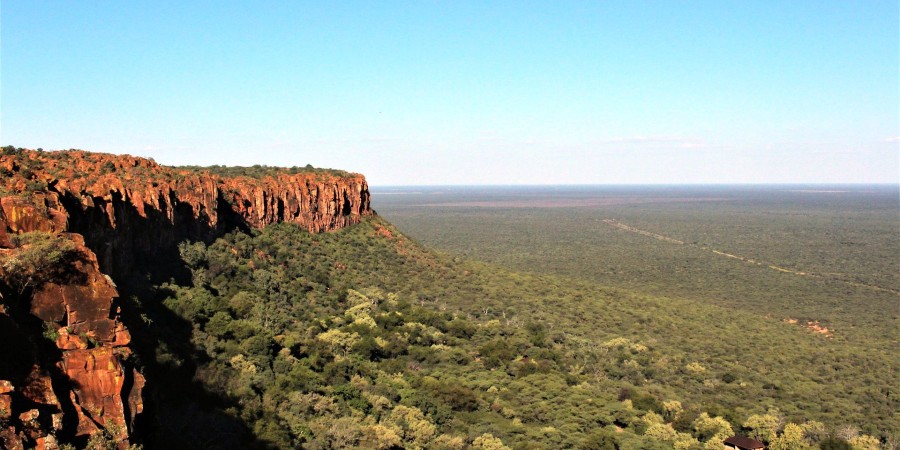 Von Trotha then issued his infamous "extermination order" which read:
Within the German boundaries, every Herero, whether found armed or unarmed, with or without cattle, will be shot. I shall not accept any more women and children.
That is exactly what then happened. The stories are too sad to tell. The order stood for two months, until it was replaced with, guess what? Concentration camps! According to Encyclopedia Britannica, the Germans followed the recent British example in South Africa. Round up the enemy—civilians as well as combatants—and confine them to concentration camps. But there as well, most of them died due to the horrific circumstances.
In October 1904 the southern Nama also revolted, and like the Herero, they also ended up in concentration camps. The vast majority of them were sent to Shark Island at Lüderitz. The train tracks leading to Shark Island look eerily like those running into Auschwitz and Dachau today. The picture below was taken by my in-laws at Lüderitz a few years ago. It is most likely a Nama skull of 120 years ago.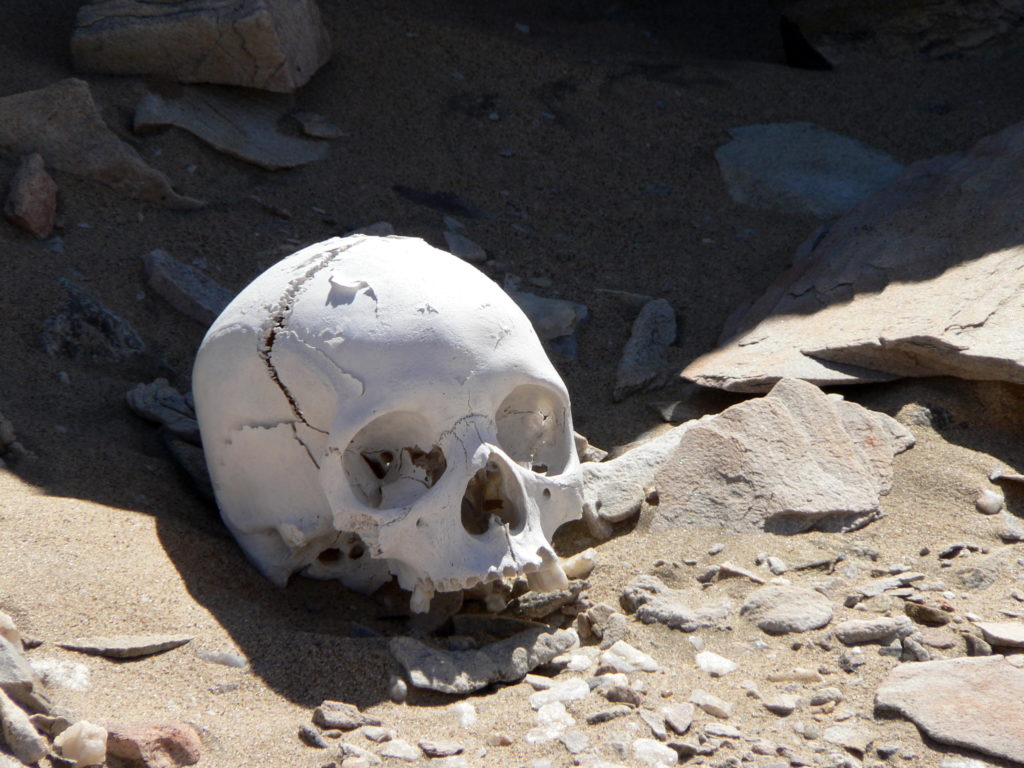 At the end of the German campaign the Herero nation was reduced by 80% and the Nama by 50%.
So what is the moral of the story?
Both of these wars were fueled by the stronger party's greed and pride. Both of them were unprovoked. As such they were already unjust wars. Then in both cases a line was crossed. Out of desperation and frustration the aggressor resorted to total war, going for women and children, even the elderly. But, let us also not forget, in the case of Germany apology was made to the victims a century later, in the case of Britain not yet.
My thesis is this. It could never have happened on the basis of Christian principles. Not even nominal Christians would have been motivated to do this. The only possible explanation is that 200 years of anti-Christian Enlightenment propaganda lay behind it. This is what happens when you exchange the truth for a lie. What makes it even more sad is that Germany and Britain were the largest sources of missionaries to Africa at the time, so that these wars also left many Western hearts broken. Three 19th century German missionaries count among my own ancestors in Africa.
So where was the real divide then? It wasn't Lessing's ditch. Let God's prophet tell us: "No longer will the fool be called noble, nor the scoundrel be highly respected. For fools speak folly, their hearts are bent on evil: They practice ungodliness and spread error concerning the Lord; the hungry they leave empty and from the thirsty they withhold water. Scoundrels use wicked methods, they make up evil schemes, to destroy the poor with lies, even when the plea of the needy is just. But the noble make noble plans, and by noble deeds they stand" (Is. 32:6-8).
Or as Proverbs says: "a righteous man hates falsehood, but a wicked man acts disgustingly and shamefully" (Prov. 13:5). That's where the real chasm lies.
That's why Emily Hobhouse became the true British hero, and why Paul Kruger drew greater crowds in Europe in 1900 than any other human being could even dream of. Interestingly also, the tough Boer General Jan C. Smuts was considered the wisest negotiator at Versailles, according to Margaret McMillan in her bestseller Paris 1919. Even Churchill wished Smuts could succeed him, should he pass away during WWII.
How not be overcome by evil
The great challenge on the part of the victims would be of course not to continue the reign of sin and death, but to overcome evil with good.
My great grandmother Betty Jacobs narrowly escaped British capture several times, as her African folk protected her and the kids in the open veld. One day when the war was over, as she sat staring across the veld, with the turtle doves cooing in the gum trees, she spotted something far on the horizon. She kept on staring until she realized it was her beloved Frederik.  He was alive! Just imagine their happy embrace.
Frederik Jacobs, who lived to become 100 years, came home that day. He hardly ever talked about the war, but told her how he once took a wounded British officer into his tent, after the Battle of Magersfontein, to care for him. The officer fully recovered and returned to his duties on the enemy side.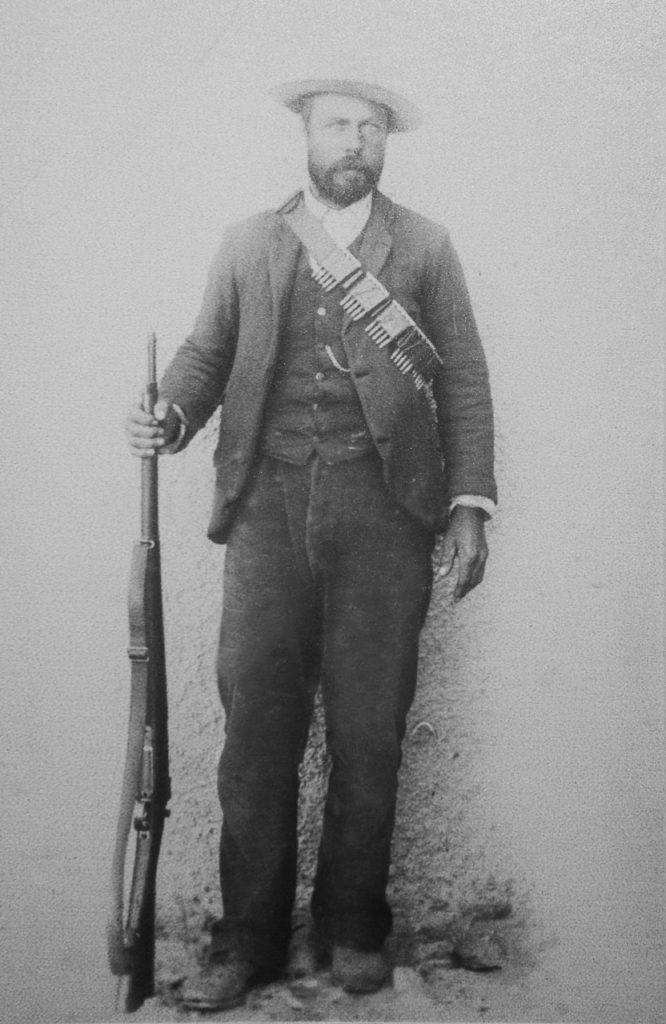 Years later my great-grandparents got a moving letter from the officer's wife, thanking Frederik Jacobs for saving her husband's life. She ended her letter by praying God's blessing on his entire family and posterity, of whom I am one happy recipient.
In that Jacobs-farmstead my folks knew, there was only One who could drive away the pain of war, for the big old Dutch Bible said: "You shall not be overcome by evil, but overcome evil with good" (Rom. 12:21). And so, they sat at Jesus feet singing the Songs of Zion year after year. For only when God's Word is "a lamp unto our feet and light unto our path", shall we truly live and be a blessing unto others (see Psalm 119:105).
But alas far away in Europe the optimism and pride were not over yet. In 1912 a French tailor thought he could jump off the Eiffel tower with homemade wings… and fly. In the same year the Titanic embarked on her maiden voyage, thinking that not even God could make her sink. It was two years before the start of the First Word War!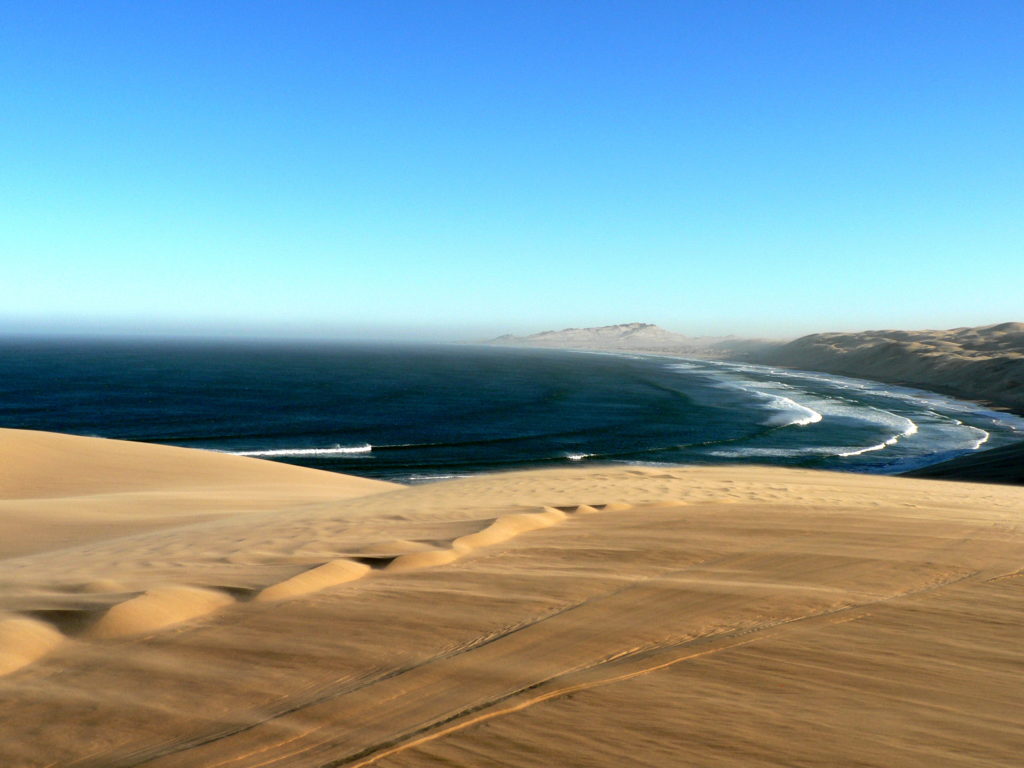 Thanks to Tony Raimondi for the two photo's taken near Luderitz.