My previous blogpost was an open letter to all Americans. This time I'd like to address my Russian friends. Ever since I was young, I was interested in your vast country and her history, even though I always remained deeply opposed to Communism. Something about Russia intrigued me. Maybe it was the haunting scenes of a Siberian winter-storm, that I sometimes saw in a movie, or the hidden mystery of the massive country that lay behind the "Iron Curtain", far to the north from where I grew up in sunny South Africa.
As a teenager I read the story of Ivan Moiseyef (Vanya), the Christian soldier who was martyred for his faith in the early seventies in a Soviet Army Camp. His story touched me deeply. Later in Holland I purchased a CD with Russian folk songs, and enjoyed listening to it for many years. Today I am a great admirer of the greatest author of the 19th Century, Fyodor Dostoevsky.
For a while I lost interest in Russia, even though I checked the "headlines" here and there… especially when the Soviet Union fell apart. But then somewhere in the new century I became aware of the constant anti-Russian propaganda here in North America, as we have since moved to Canada in 2001. I also saw very quickly that all the vitriol against Russia was not driven by sound reason (as propaganda seldom is). On the surface, this propaganda was often driven by a lingering ill-informed Cold-War paranoia on the one hand, and also by some ill-informed religious fear from dispensational Evangelicals (equating present-day Russia with the country Magog in Ezekiel 38) on the other . I discussed the real reasons for all the propaganda in my previous post.
It was during the Syrian War that I really began to investigate things closer. Coming from South Africa, it was part of my DNA to be very skeptical of the media, especially the international media. And so when I saw how one-sided the media reporting on Russia and also the Syrian War was, I began to smell a rat. Fake news does not have to do with conspiracy stories always. It simply has to peddle relentlessly biased, and selectively critical reports, applying double standards to the topics it deals with.
It troubled me that the media here literally never allowed the other side to present its side of the story. And so I began to discover more and more what the real reason for all the Russo-phobia was, and also for the Syrian War. And of course, it had very little to do with what we read in the news… or even with what I mentioned above. 
So my dear Russian friends, I thought I want to share with you my concerns about what is now happening in Russia. I am thinking of those of you (a younger generation) who might fancy Alexei Navalny as the next best thing to bring about a revolution in Russia. I have one simple question for you: Why? Why protesting all across Russia? What for? If you have really good reasons for doing so, please go ahead, as long as it is peaceful. But having read several reports on Navalny and the protests, and having listened to a very one-sided podcast on the Rachman Review of the Financial Times the other day, I can hardly find a good reason why Russians are called to rise up against their leaders in mass protests now. I have a suspicion that it is all part of a very deliberate plot, orchestrated from and funded by the West, to bring about regime-change in Moscow. But again I ask, what for?
And by the way, if you want to know how easy it is to stir up riots for no reason and under false pretensions, please go read the Acts of the Apostles in the Bible. Most of those who took part in the riots in Philippi, Thessalonica, Ephesus and Jerusalem, had no clue what they were rioting for, and that they were rioting against a good man. But that doesn't mean all protests have no merit of course.
When one of Navalny's closest aids was asked by Gideon Rachman on his podcast Navalny's crusade gainst the Kremlin, why they were protesting, the very first word that came out of his mouth was:  power! Yes, you heard it: Navalny wants power. I could not believe my ears. If these guys are not very sophisticated, they are at least honest. For the next fifteen minutes I hoped in vain to hear why Russian youths should take to the streets. The best Rachman's two guests could offer in terms of reasons for the mayhem, was that some folks in Russia are having it a bit more difficult financially-speaking the last few years. Navalny's two friends had to admit however, that Russia is not a patch on China, when it comes to tyranny and human rights abuses. And yet, while Russia remains the eternal Cinderella of Canada and the US, worthy of constant suspicion and acrimony, China is at worst simply a 'competitor'.
The other reason that was offered for the protests was that Navalny is a man for the younger generation, and Putin for the older. So is that it? Yep! I hoped to hear much more about all corruption (I believe there is lots) and maybe about police-brutality, or whatever, but no, nothing came forth on the Rachman Review. Nor did I find anything in all the other reports I saw. And yet the Financial Times did not even attempt to present the other side's position, so that a mature listener can make up his or her own mind. So much for honest objective journalism!
So, my fellow Russians, especially the younger generation, I want to plead with you to consider this carefully. Do you think those who want trouble with Russia and who support Mr. Navalny here in America and Britain really care for you, or even for Alexei Navalny's brand of nationalism? Look what is happening here in the US right now. As someone has said, after the Left had won the decades-long culture war, they are now driving around "shooting any survivors" on the spot. Who knows when that will begin to happen in real life! And yet you guys get excited about Western support for your protests! Do you really think current Western style "democracy" is the solution to your country's problems? Did you know that we may now even no longer address people as "ladies" and "gentlemen", like we did for centuries?
And did you perhaps see the secret footage (that you can find on theduran.com), showing how a British MI6 agent met with Navalny's aids in a Moscow hotel, promising them big bucks, should the protests have the desired effects? The Duran also reported how the American Embassy in Moscow even went so far as to publish the dates and venues of some of the pro-Navalny protests before he appeared in court. Can you imagine Russia doing the same in the US? Or the US doing the same in China?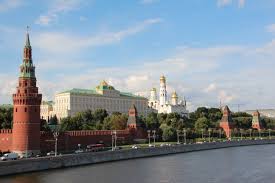 My dear young Russian friends, this is a powder keg. If you want to throw your country to the dogs because your president is supposedly corrupt, then think again. Don't you know where your mother Russia was in the nineties? Where she was in the 1950's? Or back in 1917 when angry sailors from Kronstadt randomly mowed down hundreds of bystanders in Petrograd's Nevsky Prospect, with their mounted machine guns, in just another orgy of angry irrational drunken violence, with Lenin enjoying it all in silence?
Don't you know how much lives you have sacrificed during that February and October revolutions? And in the gulags? And in the Great Patriotic War? What would your grandparents do, if they could know that you are willing to plunge holy Russia into turmoil because Putin may have a magnificent mansion somewhere on shores of the Black Sea (even it happened to be true)? Have you perhaps checked out the mansions and exotic islands of other world elites? 
I read in Helen Rappaport's Caught in the Revolution how a Westerner dove into a gutter and found himself next to a Russian, in an effort to avoid the flying bullets in Petrograd in the summer of 1917. He anxiously asked his Russian friend what in the world was going on? The answer he got was: "We Russians are idiots". And many of them were! That's' why Lenin could exploit them so easily.
I have never been to your beautiful country. Will you please show us that you are proud of her? Show the world that you have learned from your past, in how you face your problems, and that you are definitely no "idiots" anymore. And please don't fall for empty Western promises. It is not so wonderful here any more my friends. Everyone is saying it.
Remember also how Germany sponsored Lenin and the Bolsheviks long ago. The powers in the West that are now so keen to see your country plunged into chaos do not really care for Russia. They want regime change for their own purposes. But please consider, they did the exact same thing in so many places over the last fifty years, from Zimbabwe to Libya, supporting Marxist or Islamist revolutionaries, betraying Christians and other more moderate peace-loving folks, for their own interests.  Every single time they walked away, washing their hands in innocence, taking no responsibility for what they have left behind.  
Please keep that in mind.  You have so much to lose. And think of it, while you were groaning under totalitarianism, we were basking in liberty, affluence and pleasure, and got spoiled. Back in 1978 one of your own, one Alexander Solzhenitsyn, came to Harvard and told us point blank – speaking in a downpour under his umbrella – that we in the West knew very little about life. And he was absolutely right. But we were too proud to listen then. Things have changed now. We are ready to listen. Yes, the common folks here in North America and in Europe, are willing to listen to you, and to learn.
So, my Russian friends, please pray for us. We might very likely be heading, where your parents have come from. Do you know, that every immigrant arriving here in Canada from Eastern Europe, Russia or China tells us the same thing: We are headed for that dark place where their former countries once were or still are. An American Christian author, Rod Dreher, even wrote a book about this, called Live Not by Lies.
This, my friends, is Russia's opportunity to a beacon of hope for the world, of Western civilization reborn, of healthy family values, of freedom, of a free market without exploiting the poor, of law and order, and above all of Christian faith, hope and love… 
May God bless Russia, and have mercy on us all.